The courses that we hold all have an organizational structure that mimics natural systems. The success of the course depends upon agreements made within the organizational structure.  The '8 shields model ' developed by Jon Young and associates is one such model that we are using here at Spiral Ridge Permaculture.
Eight Shields Organization Model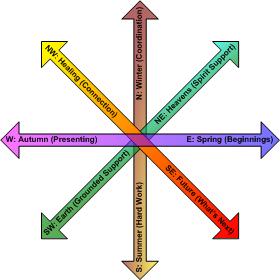 8 Shields Background & Credits
This model assumes a heterachical team – a network of people who work on common goals, in which each person has the same "horizontal" position of power and authority, but each is responsible for different sets of "natural" elements. Each member of the leadership team is accountable to the overall team. Each member is assumed to be independently responsible – to be making and keeping agreements about what they will do to drive toward the common goals.
The 8 Shields or Directions presents a "natural" or "organic" organizational scheme. Some communitarians and others routinely "Call" or "Invoke the Directions" as a way of grounding their gatherings to the natural world.
The impetus for this specific "rendering" of the 8 Shields Model was to help organize the work for a large event. Each of the 8 Directions or Shields is intended to be a natural clustering that would be useful for the leadership as we grouped actions and responsibilities. There will be overlap and ambiguity between roles. Part of the job of the Core Team is to resolve some of this ambiguity and clarify who's doing what.
Core Team: This will be a team of up to six individuals, each of whom will have primary responsibility for one or more of the six shields (for this team, we will not have people for the SE or NW). Each member will hold their pole positions during group discussions. Some people may sign up for a particular shield and need to step back if they find they are unable to make the required deliverables – hopefully our communications will be open enough that people will step up or back as appropriate. We will endeavor to recruit sufficient people and communicate enough so that roles can be shifted to others as required with minimal disruption.
Extended Team: This broader team will consist of the Core Team members plus others who are helping with or advising on the event. To fulfill the responsibilities associated with a particular shield may require more energy than will be available from a single person. This energy will come from both other members of the core leadership team and members of an extended leadership team. Whole sub-teams will be formed for periods of the more labor-intensive efforts, e.g. a Facilities Team for setup, etc.
The 8 Shields
East: Spring (Beginnings)
The East is about getting things started, about getting people to the event.
East: Energetics
Inspiration
Inclusion
Illumination
Promotion
Enthusiasm
Excitement
Welcoming
Outreach
Freshness
East: Concrete Tasks
PR/Publicity
Identifying potential sponsors
Preparing marketing communications
The Entrance
Announcements
Greeting; Working the Door
East: Hazards
Toxic sweetness
Phony sales attitudes
Jump to West, excited about the new and immediately starts training it
East tasks are especially critical throughout the earliest phases of the project and we need to identify a strong East leader ASAP. Portions of this work can be done off-site, but as the event approaches, onsite energy will be required. It is also vital to have sufficient back-up for this person so that a hand-off can be done if required.
South East: Future (What's Next)
The South East is about helping address blocks to the event's success.
South East: Energetics
Motivation
Overcoming personal blocks
What's next – after the event?
Clarity of vision
South East: Concrete Tasks
Programming evaluation from motivational point of view
Planning take-away materials
Planning next steps beyond event – other NW events, follow-up
South East tasks help ensure that people are motivated and that "What's Next?" or "therefore?" questions have clear answers.
South: Summer (Hard Work)
The South is about implementation – making the work happen.
South: Energetics
Implementation
Creation
Perspiration
Attention to detail
Joyful, hard work
Focus
In the thick of it
South: Concrete Tasks
Registration
Mailings
Material production/handling
Handling/tracking the money
Onsite logistics
Timelines
Timekeeper
Documentation
South: Hazards
Tunnel vision, needs to listen/remain open
South tasks include much of the detailed, "paper" work which is required for a successful event. These tasks connect and support all other directions.
South West: Earth (Grounded Support)
The South West provides the event's core grounding.
South West: Energetics
Connection to the earth
Beautification
Nurturing and physical caretaking
Nourishment
Timeless wandering
Downtime, relaxation and play
South West: Concrete Tasks
Physical space and site needs
Facilities selection/rental
Event setup
Event breakdown/cleanup
Meals and Refreshments
South West: Hazards
Lost in the hammock – never leaves bed
Undependable
South West tasks are mostly physical, involving the facilities and food for attendees. Identifying the facilities will be an early deliverable for this role.
West: Autumn (Presenting)
The West is about sharing…
West: Energetics
Community Building – bringing people together
Celebration
Sharing gifts
Appreciation
Learning/Understanding
Reflection/Seeking Truth
Sharing stories & teaching
Harvesting – sharing fruits of labor
West: Concrete Tasks
Leading workshops, panels, etc.
Organizing presenters
Introducing speakers
Making announcements
Visible onsite leadership
West: Hazards
Ego
Too much presenting, not enough relating
West tasks focus on the programming, the actual content of the event. West leadership will include any presenters at the event.
North West: Healing (Connection)
The North West is about deep connecting.
North West: Energetics
Past
Networking
Deep connection
North West: Concrete Tasks
North West tasks include building relationship between the event team and various constituencies, including presenters, sponsors, and, through everything else, the event attendees.
North West Hazards might be over-extension, too much focus on others at cost of self-care
North: Winter (Coordination)
The Winter is about providing vision and overall coordination.
North: Energetics
Vision and purpose
Oversight and big picture
Wisdom and Elderhood
Perspective and Gratitude
Reflections
Hibernation
Integration
Completion
Unity
North: Concrete Tasks
Organizational Overview
Recruiting the Leadership Team
Organizing our work and group – the wiki
Managing the project schedule
Leadership team communications
Overall Budget
Connecting the dots
Meeting and Event Debriefs
North: Hazards
Becoming Overwhelmed
Trying to do everything, not delegating
North tasks are about organizing and integrating and providing feedback on the whole.
North East: Heavens (Spirit Support)
North East is about supporting the spirit.
North East: Energetics
Internal community-building
Organizing team Vibes Watcher
Mega-vision
Twilight
Remembrance
Connection with Spirit and Mystery
Dreaming
North East: Concrete Tasks
Meeting Openings/Closings
Event Opening/Closing
Mediation amongst event organizing team
Emotional care-giving
North East: Hazards
Not grounded
Head in the clouds
North East tasks help ensure the team is caring and cared for. That everybody is getting what they need.